When you are looking for professional grade lawn and landscaping products, stop by A&G Turf and look through our line of Shindaiwa products. Shindaiwa is designed and constructed of the highest quality materials to give you lawn and landscaping tools that are dependable and durable. Shindaiwa uses innovative designs to make your landscaping work efficiently and look great.
Shindaiwa is the leader and innovator in the development of clean burning 4-cycle engines with C4 and the new H4 technology. Shindaiwa continues to improve this technology to provide even cleaner burning engines. This technology provides outdoor power equipment that burns cleaner and has fewer harmful emissions.
A&G Turf proudly sells and services the professional landscaper, schools, governmental agencies, municipalities and large property owners with Shindaiwa outdoor products.
Landscaping professionals have come to depend on the expert advice of A&G Turf when purchasing and servicing Shindaiwa lawn and landscaping products. The staff at A&G Turf understands the exact application each Shindaiwa product has and will gladly match the lawn and landscaping tool to the job. Some of the high-performance Shindaiwa products that we carry at A&G Turf include:
A&G Turf is the Valleys's #1 fleet provider for Shindaiwa outdoor products. A&G Turf supports the Shindaiwa Fleet Advantage Program for commercial landscapers and fleet users. By becoming a Shindaiwa Fleet Advantage Program user, you earn extra discounts off participating products. Using new Shindaiwa outdoor products, you will have less operating downtime, potential tax advantages and you protect your investment with Shindaiwa's commercial warranties.
A&G Turf is Arizona's largest provider of Shindaiwa outdoor products for governmental agencies and other non-profit agencies. Contact your A&G Turf Governmental Representative for program details. Learn more at
Mojave Educational CO-OP
.
Find out why landscaping professionals rely on Shindaiwa products. An A&G Turf representative will gladly provide recommendations on the proper Shindaiwa product for you. To see the Shindaiwa products that we offer at A&G Turf, please view our gallery below and click on specific products that you are interested in.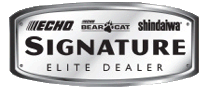 Contact A&G Turf
See why Shindaiwa has been the choice of professional landscapers for over 50 years. Call A&G Turf today at 602-443-3072 or toll free throughout Arizona at 1-800-487-8651. We have four convenient locations throughout the Valley. To see the location near you, please visit the
Store Locator
. You can also reach us with any Shindaiwa lawn and landscaping product questions that you may have through the
Contact Us
page.