Reduce, Reuse, Recycle


ECHO Bear Cat proudly manufactures a vast selection of Outdoor Power Equipment that can handle a variety of wood material and take care of leaf and grass debris with ease. No matter, if you are a home owner, a hobby farmer, a commercial landscaper or just looking for an environmentally friendly way to dispose of wood and yard debris, ECHO Bear Cat machines will be able to fit your exact needs and get the job done.
Burning yard waste releases high amounts of carbon dioxide and releases heat into the air contributing to pollution. ECHO Bear Cat is aware that providing a clean air option is not only necessary, but is a regulatory requirement in many communities.  Municipalities, park and recreation boards and city regulations ban the use of burning yard waste, By utilizing an ECHO Bear Cat machine, biodegradable material is produced and used for mulch and compost, adding vital nutrients and minerals back to the earth.
At A&G Turf, we offer a number of Echo Bear Cat products. Listed below are some of the Echo Bear Cat products that we sell and service:
A&G Turf is the Valley's #1 fleet provider for Echo BearCat chipper shredders, wheeled trimmers, stump griners, chippers, PTO Machines, skid steer chippers, debris loaders and wheeled vacuums. A&G Turf supports the Echo Bear Cat Fleet Advantage Program for commercial landscapers and fleet users. By becoming an Echo Bear Cat Fleet Advantage Program user, you earn extra discounts off participating products. With new equipment, you will have less operating downtime and you protect your investment with Bear Cat's commercial warranties.
A&G Turf is Arizona's largest provider of Echo Bear Cat outdoor equipment for governmental agencies and other non-profit agencies. Contact your A&G Turf Governmental Representative for program details. Learn more at
Mojave Educational CO-OP
.
An A&G Turf representative will be more than glad to discuss the lawn or landscaping task that you are taking care of and help match you with the Echo Bear Cat product that will efficiently get the job done.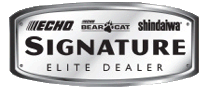 Contact A&G Turf
To get more information on the Bear Cat products offered by A&G Turf, give us a call today. In the Phoenix Metropolitan area, call 602-443-3072 or toll free throughout Arizona at 1-800-487-8651. We have four convenient locations throughout the Valley. To see the location near you, please visit the
Store Locator
. You can also reach us with any Bear Cat related questions that you may have through the
Contact Us
page.