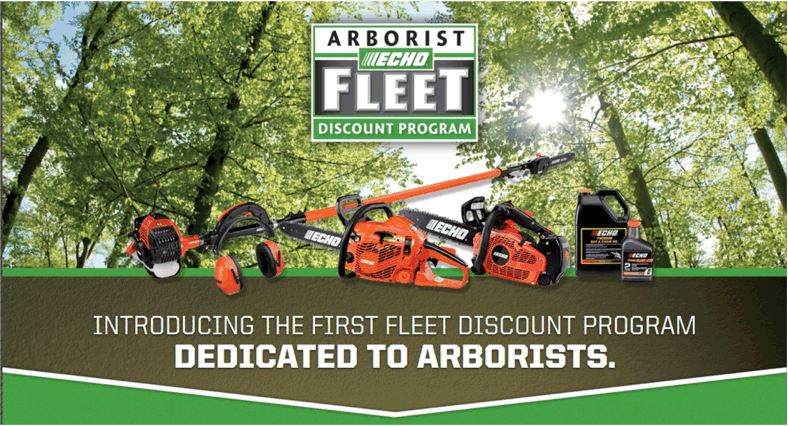 The brand new Arborist Fleet Discount® Program rewards your commitment to ECHO Chain Saw and Power Pruner® quality with deep product discounts and "no-hassle" financing.
  This flexible program allows you to save money immediately with a low initial $1,500 purchase. With two tiers of discount you will save more as you bundle your purchases.
Deep discounts starting at 16% begin immediately when reaching purchase tier!
Simple and quick financing - gets you the equipment you need quickly and painlessly.
Discounts apply on ANY combination of ECHO and Shindaiwa Chain Saws, Power Pruners® and accessories.
Low qualifying purchase - only $1,500 - higher discounts apply at $2,500.
Discounts apply for 12 months.
Fleet discounts cannot be combined with any other offers.
View our Echo Arborist Chainsaw Page
The pricing examples below show the cost savings that can be achieved with ECHO's Arborist Fleet Program. Both the Tier 1 and Tier 2 examples show an initial purchase that will get you into each respective tier. The last line in each example shows your savings with each subsequent purchase (within 12 months) of the same items.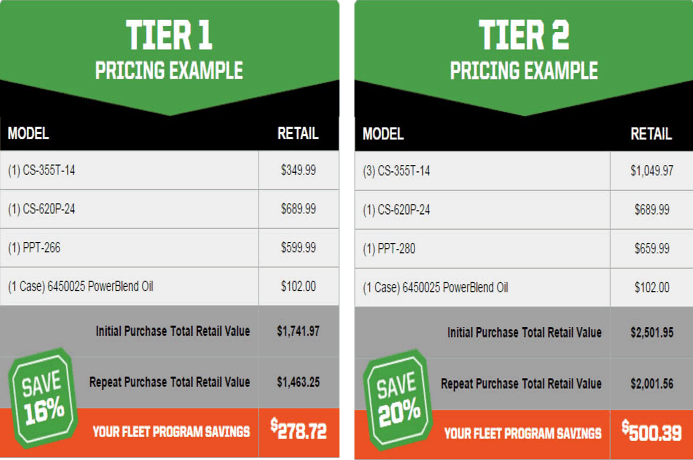 * Retail prices in effect 1/1/2016 and are subject to change without notice.